Large infrastructural networks, telecommunications, "smart" sensors, Big Data, engineered materials place the study of complex systems among the most rapidly growing disciplines, including soft and active matter, and biophysics.  At international level, these areas, which also include fundamental physics (emerging quantum phenomena, such as high-temperature superconductivity) and interdisciplinary aspects like multilevel networks, epidemiology or the animal behaviour, are strengthening. Particularly important is the Human Brain Project (HBP). Goals are:
An integrated plan based on networks theory and Big Data, for controlling viral techno-social phenomena (biological, information, social) and cascade phenomena (technological breakdown, economic and financial crisis) and the optimization of infrastructures (electrical, transport and logistic networks).
Bio–eco–compatible, bio–mimetic, and granular materials for environment, medicine, agri–food, energy, cultural heritage, industry, brain information processing and synaptic transmission.
Devices based on surfaces and volumes intelligent control to realize robots for "smart factory", for example for the growth of cell tissues or antibacterial surfaces.
Study of the interaction between organisms and environment for the impact of natural and anthropic perturbations, for studies on water and food quality and on the availability of fishing resources.
Study of complex biological systems (macromolecular, cellular and tissue, model organisms) with emphasis on biophysical mechanisms of pathology, for the development of new drugs, diagnostic and therapeutical approaches, based on nanosciences too.
In the frame of the HBP, the main goals are new methodological instruments for the study, the diagnosis and the treatment of illnesses and cerebral dysfunctions (autism, epilepsy, cognitive processes deficit, neurodegenerative pathologies), man-machine interfaces, neural modelling, low-consumption intelligent  technologies and brain–enabled robot.
Spotlights on research activity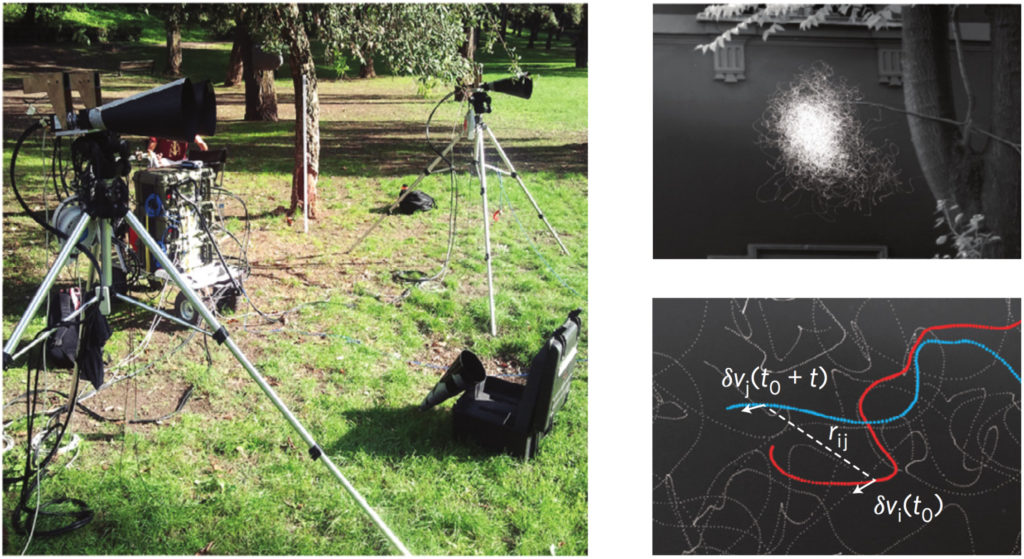 Collective behavior in biological systems presents theoretical challenges beyond the borders of classical statistical physics. The lack of concepts such as scaling and renormalization is particularly problematic, as it forces us to negotiate details whose relevance is often hard to assess. In an attempt to improve this situation, we have presented experimental evidence of the emergence of dynamic scaling laws in natural swarms of midges. We found that spatio–temporal correlation functions in different swarms can be rescaled by using a single characteristic time, which grows with the correlation length with a dynamical critical exponent z ≈ 1, a value not found in any other standard statistical model. To check whether out–of–equilibrium effects may be responsible for this anomalous exponent, we run simulations of the simplest model of self–propelled particles and find z ≈ 2, suggesting that natural swarms belong to a novel dynamic universality class. This conclusion is strengthened by experimental evidence of the presence of non–dissipative modes in the relaxation, indicating that previously overlooked inertial effects are needed to describe swarm dynamics. The absence of a purely dissipative regime suggests that natural swarms undergo a near–critical censorship of hydrodynamics.
Contact person: Andrea Cavagna, ISC Rome