Large infrastructural networks, telecommunications, "smart" sensors, Big Data, engineered materials place the study of complex systems among the most rapidly growing disciplines, including soft and active matter, and biophysics.  At international level, these areas, which also include fundamental physics (emerging quantum phenomena, such as high-temperature superconductivity) and interdisciplinary aspects like multilevel networks, epidemiology or the animal behaviour, are strengthening. Particularly important is the Human Brain Project (HBP). Goals are:
An integrated plan based on networks theory and Big Data, for controlling viral techno-social phenomena (biological, information, social) and cascade phenomena (technological breakdown, economic and financial crisis) and the optimization of infrastructures (electrical, transport and logistic networks).
Bio–eco–compatible, bio–mimetic, and granular materials for environment, medicine, agri–food, energy, cultural heritage, industry, brain information processing and synaptic transmission.
Devices based on surfaces and volumes intelligent control to realize robots for "smart factory", for example for the growth of cell tissues or antibacterial surfaces.
Study of the interaction between organisms and environment for the impact of natural and anthropic perturbations, for studies on water and food quality and on the availability of fishing resources.
Study of complex biological systems (macromolecular, cellular and tissue, model organisms) with emphasis on biophysical mechanisms of pathology, for the development of new drugs, diagnostic and therapeutical approaches, based on nanosciences too.
In the frame of the HBP, the main goals are new methodological instruments for the study, the diagnosis and the treatment of illnesses and cerebral dysfunctions (autism, epilepsy, cognitive processes deficit, neurodegenerative pathologies), man-machine interfaces, neural modelling, low-consumption intelligent  technologies and brain–enabled robot.
Spotlights on research activity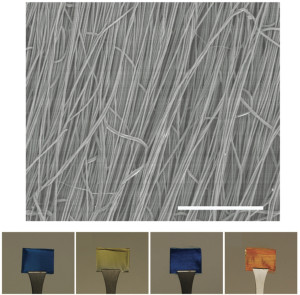 Electromechanical coupling through piezoelectric polymer chains allows the emission of organic molecules in active nanowires to be tuned. This effect is evidenced by highly bendable arrays of counter–ion dye–doped nanowires made of a poly(vinylidenefluoride) copolymer. A reversible redshift of the dye emission is found upon the application of dynamic stress during highly accurate bending experiments. By density functional theory calculations it is found that these photophysical properties are associated with mechanical stresses applied to electrostatically interacting molecular systems, namely to counter–ion–mediated states that involve light–emitting molecules as well as charged regions of piezoelectric polymer chains. These systems are an electrostatic class of supramolecular functional stress–sensitive units, which might impart new functionalities in hybrid molecular nanosystems and anisotropic nanostructures for sensing devices and soft robotics.
Contact person: Luana Persano, NANO Pisa