The DSFTM activities in this interdisciplinary research area are undertaken in close synergy with other CNR Departments. They are strongly competitive at international level with significant industrial outcomes in the following fields: aerospace, energy, health, environment and sensors.
The activities on innovative materials are focused on semiconductor, oxide, organic, magnetic, superconductor, piezoelectric and hybrid materials. Micro and nanostructures based on them represent innovative research examples which also include growth processes with physical and chemical systems, interface and dimensionality control processes. Materials control at the nanoscale can lead to the creation of composite materials and devices with new specific functionalities having broad perspectives for applications interesting for Horizon 2020 (flagships, ERC, etc.).
The Department aims at increasing its competences in designing and realizing innovative instrumentation in order to extend the frontier of knowledge in the science of matter and to contribute at relaunching the competitiveness of the national high-tech companies. For this purpose, it is planned to broaden: the study of the fundamental properties of matter by significantly increasing the experimental resolution of the present techniques (energy, time and spatial resolution both for spectroscopy and for microscopy); the study of the matter in extreme conditions (high pressure, high magnetic and electric fields, ultra–low concentrations gases, high temperatures); the development of image–processing methodologies; the simulation of more and more complex systems and the development of computing and modelling methods.
Spotlights on research activity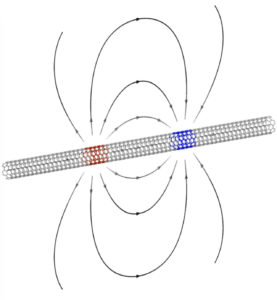 Fifty years ago Walter Kohn speculated that a zero-gap semiconductor might be unstable against the spontaneous generation of excitons–electron–hole pairs bound together by Coulomb attraction. The reconstructed ground state would then open a gap breaking the symmetry of the underlying lattice, a genuine consequence of electronic correlations. We have shown that this excitonic insulator is realized in zero–gap carbon nanotubes by performing first–principles calculations through many–body perturbation theory as well as quantum Monte Carlo. The excitonic order modulates the charge between the two carbon sublattices opening an experimentally observable gap, which scales as the inverse of the tube radius and weakly depends on the axial magnetic field. Our findings call into question the Luttinger liquid paradigm for nanotubes and provide tests to experimentally discriminate between excitonic and Mott insulators.
Contact person: Daniele Varsano, NANO Modena