The DSFTM activities in this interdisciplinary research area are undertaken in close synergy with other CNR Departments. They are strongly competitive at international level with significant industrial outcomes in the following fields: aerospace, energy, health, environment and sensors.
The activities on innovative materials are focused on semiconductor, oxide, organic, magnetic, superconductor, piezoelectric and hybrid materials. Micro and nanostructures based on them represent innovative research examples which also include growth processes with physical and chemical systems, interface and dimensionality control processes. Materials control at the nanoscale can lead to the creation of composite materials and devices with new specific functionalities having broad perspectives for applications interesting for Horizon 2020 (flagships, ERC, etc.).
The Department aims at increasing its competences in designing and realizing innovative instrumentation in order to extend the frontier of knowledge in the science of matter and to contribute at relaunching the competitiveness of the national high-tech companies. For this purpose, it is planned to broaden: the study of the fundamental properties of matter by significantly increasing the experimental resolution of the present techniques (energy, time and spatial resolution both for spectroscopy and for microscopy); the study of the matter in extreme conditions (high pressure, high magnetic and electric fields, ultra–low concentrations gases, high temperatures); the development of image–processing methodologies; the simulation of more and more complex systems and the development of computing and modelling methods.
Spotlights on research activity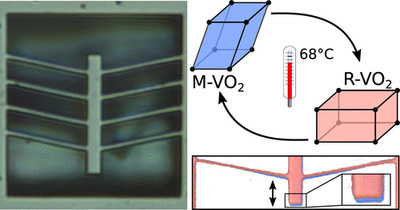 Actuation at micro– and nanoscale often requires large displacements and applied forces. The high work energy density that lies inside many phase transitions is an appealing feature for developing new actuating schemes, especially if the transition is reversible and scalable into small actuating domains. We have shown the fabrication of a planar nanomechanical actuator having chevron–type geometry and based on the phase transition of VO2. This device is thermally activated through heating just above room temperature to trigger the VO2 crystalline symmetry change associated with the metal–insulator transition. The large lattice expansion of VO2 phase transition, compared to standard materials, is further amplified by the chevron–type geometry. DC and AC operation of the device are discussed.
Contact person: Nicola Manca, SPIN Genova