Micro– nanoelectronics are one of the European Programme Horizon 2020 key enabling technologies (KET). They are not only relevant for many services and products, but also underlie innovation and competitiveness of most sector of the National Research Plan. The DSFTM activities in this field are focused on a series of areas strongly linked to companies in the National territory (STMicroelectronics, LFoundry) and at European research centres (CEA–LETI, IMEC) and aim at the development of new materials, processes, devices and technologies in the following main sectors:
Devices on nanometer scale with new generation logic and/or memory functionality based on emerging concepts.
Non–electronic systems for the development of multifunctional platforms (More than Moore) and innovative computational architecture.
Enabling technologies for new generation high–frequency, power devices based on advanced materials (SiC, GaN, GaAs, graphene, etc.).
Devices for energy conversion working through photo–thermoionic, thermoionic and thermoelectrical processes based on non–conventional materials and on nanostructures;
Devices and electronic circuits on flexible substrates based both on organic transistors (OTFTs), realized by means of fully printed technology, and on polycrystalline silicon TFT.
Realization of autonomous multisensorial systems for chemical and physical parameters; multifunctional and multisensorial systems for: ambient–assisted living; health safety and security and healthcare prevention; agri–food chain monitoring.
Advanced MEMS/MOEMS technologies for deformation resonating sensors, energetic micro–harvesting, pressure, inertial, acoustic and including the integration of innovative materials and 2D (graphene, MoS2) for piezoelectrical, thermoelectrical and chemical transduction.
Multifunctional systems for biomedical applications: biosensors, drugs micro–dispensers medical diagnostic systems (breath analysis, PET analysis, myocardial infarction), MOEMS on optical fibres for medical diagnosis.
Spotlights on research activity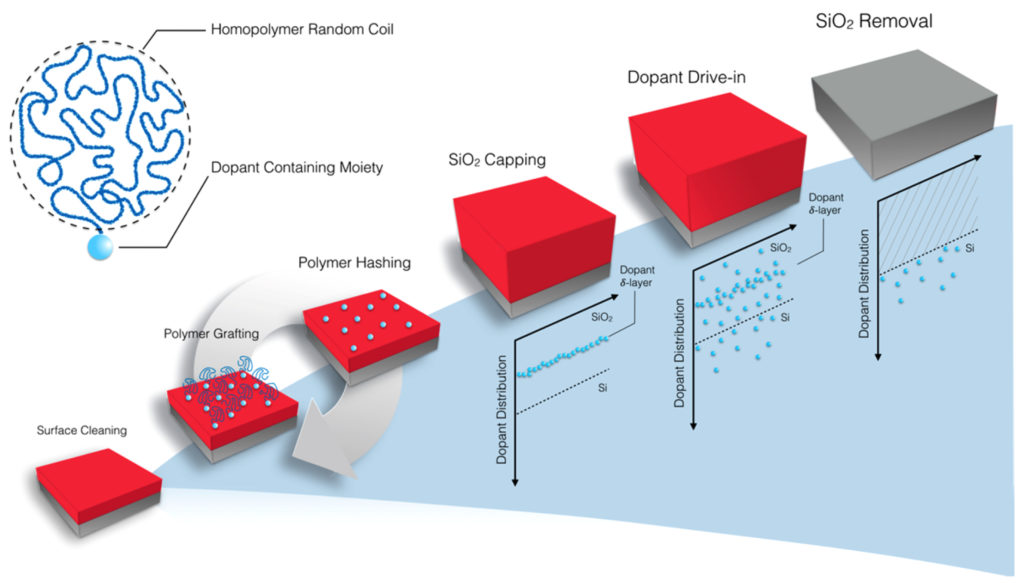 An effective bottom–up technology for precisely controlling the amount of dopant atoms tethered on silicon substrates has been presented. Polystyrene and poly (methyl methacrylate) polymers with narrow molecular weight distribution and end–terminated with a P–containing moiety were synthesized with different molar mass. The polymers were spin coated and subsequently end-grafted onto nondeglazed silicon substrates. P atoms were bonded to the surface during the grafting reaction, and their surface density was set by the polymer molar mass, according to the self-limiting nature of the "grafting to" reaction. Polymeric material was removed by O2 plasma hashing without affecting the tethered P–containing moieties on the surface. Repeated cycles of polymer grafting followed by plasma hashing led to a cumulative increase, at constant steps, in the dose of P atoms grafted to the silicon surface. P injection in the silicon substrate was promoted and precisely controlled by high–temperature thermal treatments. Sheet resistance measurements demonstrated effective doping of silicon substrate.
Contact person: Michele Perego, IMM Agrate Brianza