Micro– nanoelectronics are one of the European Programme Horizon 2020 key enabling technologies (KET). They are not only relevant for many services and products, but also underlie innovation and competitiveness of most sector of the National Research Plan. The DSFTM activities in this field are focused on a series of areas strongly linked to companies in the National territory (STMicroelectronics, LFoundry) and at European research centres (CEA–LETI, IMEC) and aim at the development of new materials, processes, devices and technologies in the following main sectors:
Devices on nanometer scale with new generation logic and/or memory functionality based on emerging concepts.
Non–electronic systems for the development of multifunctional platforms (More than Moore) and innovative computational architecture.
Enabling technologies for new generation high–frequency, power devices based on advanced materials (SiC, GaN, GaAs, graphene, etc.).
Devices for energy conversion working through photo–thermoionic, thermoionic and thermoelectrical processes based on non–conventional materials and on nanostructures;
Devices and electronic circuits on flexible substrates based both on organic transistors (OTFTs), realized by means of fully printed technology, and on polycrystalline silicon TFT.
Realization of autonomous multisensorial systems for chemical and physical parameters; multifunctional and multisensorial systems for: ambient–assisted living; health safety and security and healthcare prevention; agri–food chain monitoring.
Advanced MEMS/MOEMS technologies for deformation resonating sensors, energetic micro–harvesting, pressure, inertial, acoustic and including the integration of innovative materials and 2D (graphene, MoS2) for piezoelectrical, thermoelectrical and chemical transduction.
Multifunctional systems for biomedical applications: biosensors, drugs micro–dispensers medical diagnostic systems (breath analysis, PET analysis, myocardial infarction), MOEMS on optical fibres for medical diagnosis.
Spotlights on research activity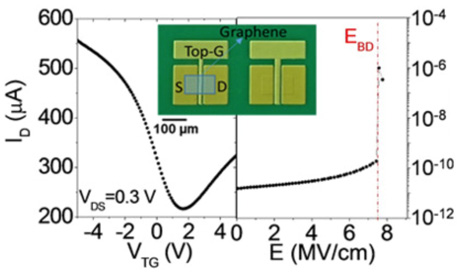 High–quality thin insulating films on graphene (Gr) are essential for field-effect transistors (FETs) and other electronics applications of this material. We have reported a detailed morphological, structural, and electrical investigation of Al2O3 thin films grown by a two–steps ALD process on a large area Gr membrane residing on an Al2O3–Si substrate. This process consists of the H2O–activated deposition of a Al2O3 seed layer a few nanometers in thickness, performed in situ at      100 °C, followed by ALD thermal growth of Al2O3 at 250 °C. Nanoscale–resolution mapping of the current through the dielectric by conductive atomic force microscopy (CAFM) demonstrated an excellent laterally uniformity of the film. Analysis of the transfer characteristics of Gr field–effect transistors (GFETs) allowed us to evaluate the relative dielectric permittivity (ε = 7.45) and the breakdown electric field (EBD = 7.4 MV/cm) of the Al2O3 film as well as the transconductance and the holes field-effect mobility (about 1200 cm2 V–1 s–1).
Contact person: Gabriele Fisichella, IMM Catania