Biophysics is a transdisciplinary science combining the complexity of biology with the elegance of physics. Soft matter refers to a large class of materials composed of systems organized on a mesoscopic scale, with typical dimensions from one nanometer to hundreds of microns, including many biomaterials. A relevant feature of soft matter is its high responsiveness to external stimuli of various kinds, both mechanical and electrical. Research methodologies include both experimental studies of physico-chemical nature for the synthesis and characterization of soft and biological materials, as well as theoretical and numerical studies, even on a large scale.
Main objectives are:
Study of the collective behavior of active matter systems of biological origin at different levels of scale (bacterial clusters, cell colonies, swarms of insects, flocks of birds).
Development of multi-scale models for the theoretical and numerical treatment of soft and biological materials.
Study of aggregation and self-assembly processes with bottom-up and top-down strategies of soft, colloidal and biological materials. Study of effective interactions, structural and dynamic properties. Investigation of gel and glass transition.
Study of the interaction between organisms and the environment to understand the impact of natural and anthropogenic perturbations on the ecosystem.
Study of the carbon cycle in natural waters.
Studies of the quality of water, food and the availability of resources.
Study of animal and plant systems at different scales, macromolecules and molecular complexes, vesicles, cells, tissues and organs. Biophysics and biochemistry of pathologies or cellular and systemic aging, for the development of innovative drugs and diagnostic and therapeutic approaches, also based on nanoscience and precision medicine. Study of neurodegenerative diseases on animal models with X-ray Phase Contrast Tomography, nuclear magnetic resonance and correlative microscopy.
Spotlights on research activity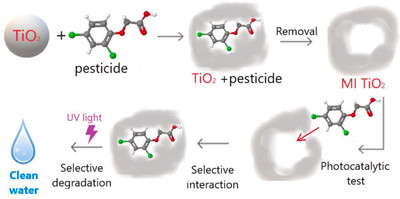 In order to achieve a selective removal of specific pesticides from water, we synthesized, through the sol–gel technique, molecularly imprinted TiO2 photocatalysts with the only use of the standard reactants of the TiO2 solgel synthesis together with the pesticide molecules, without any addition of further reactants supports or matrices. It is a new, easy, smart and scalable method that avoid the multistep and solvent–consuming procedures, typical of the molecular imprinting. Two widely–used pesticides, i.e. the herbicide 2,4D, and the insecticide imidacloprid, were chosen as template for the molecular imprinting and as contaminants target for the photocatalytic tests. A remarkable enhancement of the photocatalytic activity was verified with the TiO2 imprinted with the corresponding pesticide-target. The selectivity of the photodegradation process was verified thanks to the comparison with the degradation of pesticides not–used as template. Furthermore, the eventual toxic effects of the molecularly imprinted materials were evaluated by biological tests.
Contact person: Roberto Fiorenza, IMM c/o Università di Catania