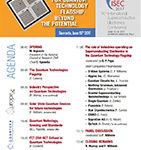 ISEC2017 will be held in Sorrento on June 12 – 16, 2017 and will host sessions on most innovative, cutting-edge topics, including hybrids with unconventional pairing as well as quantum topological properties toward novel electronic solutions, interface states in topological superconductors and insulators interfaced to superconductors.  Contributions can be sent till April the 7th on line at http://www.isec2017.org/author-information/abstract-submission/.
A special event, Quantum4, related to the Quantum Technology Flagship, will take place on June 15th.
Further information at the ISEC 2017 web site.